We're a full service graphic design and consulting firm specializing in affordable web and print marketing for small businesses, non-profits and the visual and performing arts. We have offices located in the Fabric District of the Eastern Panhandle of WV (just beyond the Technology & Agricultural Corridor) and the Breezy edges of Frick Park in Pittsburgh, PA. We love working with clients in our own neighborhoods and around the globe.
Jen Rolston is the founder of Eden Design, a mission-based creative agency started in 2000. A West Virginia native and graduate of Shepherd University's BFA program, Jen has primarily worked with small businesses, non-profits, and arts organizations using her expertise to help clients achieve visions that often nurture communities, improve local economies, and foster anti-racist/anti-oppression practices.
Jen started Eden Design in response to what she felt was an immense need for affordable, professional design for the non-profit sector in the Eastern Panhandle of WV and surrounding areas. Building on the belief that "to change the world you must first change your part in it," Eden Design has blossomed into a successful design, marketing, and consulting firm. Having lived in the area for over twenty years, Jen has also become a great resource of contacts and information for numerous start-up businesses.
Clients range from thriving mom-based businesses to agriculture development, arts and theater, boutique hotels, community assistance organizations, doctors, attorneys, restaurants, professional and personal coaches, consultants . . . the list is ever growing. Eden Design also provides pro-bono graphic services to numerous charities throughout the year and has partnered with Shepherd University providing internships to graphic design students.
She lives in Jefferson County with her husband Patrick Shunney, a restoration contractor and timber framer. Jen serves on the Board of the Eastern West Virginia Community Foundation, is a member of the Jefferson County NAACP, teaches meditation and yoga through morningdharma.com and loves to go off-grid in the WV mountains — hiking and trail running followed by delicious local food, cold IPAs, and lively conversation.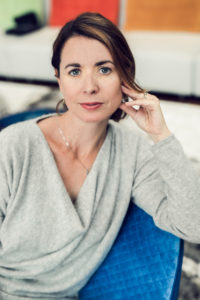 MOLLY NORTHRUP BLOOM
COPYWRITER + DIGITAL CONTENT CREATOR
Molly first met Jen after moving to Shepherdstown, WV in August 2007. Because they are both so quiet and shy (sarcasm here), they struck up a conversation and never really stopped talking.  Two years later, Molly joined Eden Design to assist with office management, e-commerce, and social media marketing. Prior to moving to West Virginia, Molly lived in New York City for ten years organizing fundraising events and outreach programs for environmental conservation organizations. She worked most recently for The Nature Conservancy. Her favorite program involved teaming up with artists, scientists and environmentalists to educate the public about environmental issues in a series called Human/Nature: Art and the Environment. Molly has also worked as a field biologist in Quebec, New York, and Florida. She has a B.A. in Environmental Studies and Entomology from Bard College. Molly lives with her husband and two children in Pittsburgh, PA.