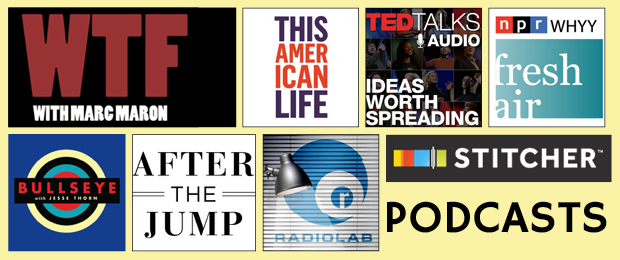 As much as I love modern day modes of communication–email, texting, social media–I find that I also still crave the human voice. Great conversations, stories that make you think, connecting with people over the airwaves . . . didn't they once have a word for that? Oh, yeah, RADIO. About 18 months ago, I was getting a bit overwhelmed with the constant barrage of negative news and wanted to give my ears and mind something more pleasant to contemplate and so began my love affair with modern day talk radio: the podcast.
There are thousands of podcasts available, they're usually free and can be easily accessed from many sources including iTunes. My fav is Stitcher which allows you to set up your favorites and automatically updates your stations for you as new podcasts are posted. I have the app on my iPhone and listen while driving, cooking, running . . . any activity that allows my brain a little freedom to just listen.
My #1 favorite podcast is comedian Marc Maron's WTF  in which he posts an in-depth interview each Monday and Thursday with comedians, musicians, writers, and actors. It is through Marc's interviews that I began to realize that many of the things I struggle with as a creative person are many of the things that even the most successful celebrities face. It is amazingly therapeutic to hear their stories and I've learned a great deal about myself while listening.
Yesterday, I finally squeezed in the time to listen to After the Jump, a podcast from Grace Bonney of Design Sponge fame. Grace interviews designers, store owners, and other creatives exploring their day-to-day lives and the challenges they face. On Episode 13, Grace does a solo show in which she discusses her own personal struggles and the things she has learned along the way in hoping to achieve a happy work/live balance. Her show is in response to the burnout that many creatives face in trying to manage their art, careers, and personal lives in this 24/7 social media age. I started Eden Design two years before my son was born and now, 12 years later, I'm STILL evolving in trying to find a sustainable work/life balance in this job that I love. I was pleasantly surprised to find that I share a lot of similarities with Grace's outlook on work and life  and that I am not alone in my challenges.
Some points that resonated with me:
Things are always in flux; life is in constant change. (This is one I've been coming to grips with over the past few months)
Set lists of short term changes, long term changes, and most importantly, a list of non-negotiables.
Know your priorities and saying no to things is okay.
Take true vacations from technology–the world will not end if you miss the latest post, tweet or news byte.
Eat, sleep, and exercise.
Check out the 6 People You Need in Your Corner by Jessica Hagy
She also recommended three books:
The bottom line is that even when we spend hours and hours alone in our virtual worlds projecting everything every minute through happy rainbow prisms we are still a very connected planet of humans with both successes AND challenges and many, many stories to tell. You are not alone. 
https://edendesignco.com/wp-content/uploads/2012/08/8-24-12_blog.jpg
260
620
Eden Design
https://edendesignco.com/wp-content/uploads/2018/03/EdenLogo_340x156.jpg
Eden Design
2012-08-24 14:42:59
2013-10-04 12:47:55
You Are Not Alone