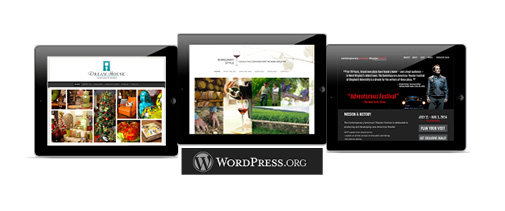 Originally developed as blogging software, WordPress has become the largest, self-hosted Content Management System (CMS) in the world.* It is an Open Source project, meaning that it is created by and for the community and is worked on by hundreds of people all over the world. You don't have to pay to install, start or maintain the software. As of the writing of this post, there are over 74 million WordPress sites in the world.
We have many clients who want an affordable site that we design and deploy, but that they can maintain. With it's flexible framework and endless library of add-ons, WordPress allows us to create stellar sites while giving our clients the option to update their own content (text, photos, etc.) by logging in from any computer via a web browser.
This doesn't mean that everybody wants a hands-on website to maintain themselves. We also have many clients who employ us to make weekly, monthly, and quarterly updates to their sites. Either way, WordPress is a cost-effective tool for all because it is a flexible and functional product that is relatively easy to maintain.
*Not to be confused with WordPress.com which is a paid, third-party host of WordPress and doesn't allow the same functionality of a self-hosted site.
*Self-hosted means that we download and install the WordPress software on the server space you rent from a web host.
*A content management system (CMS) is a computer application that allows publishing, editing and modifying of content from a central interface. CMSs are often used to run websites containing blogs, news, and e-commerce. Many corporate and marketing websites use CMSs.
https://edendesignco.com/wp-content/uploads/2014/01/blog_WP.jpg
211
505
Molly Bloom
https://edendesignco.com/wp-content/uploads/2018/03/EdenLogo_340x156.jpg
Molly Bloom
2014-01-16 11:38:05
2014-01-17 11:17:41
What is WordPress?