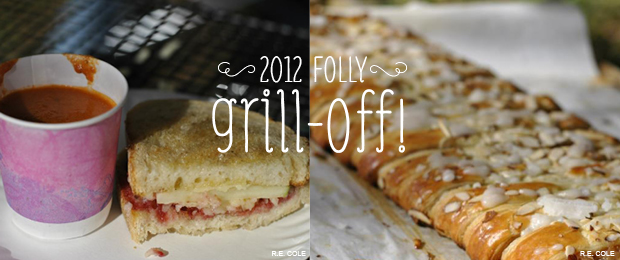 It was a beautiful and delicious October Sunday at the Timber Frame Folly in Shepherdstown. It was the annual Folly Grill-Off and the Eden girls were there to represent. Jen and Miriam entered the event and I had the tough job of tasting. The rules were: cook any fish, bird, meat or vegetarian dish over any kind of open flame. Jen got fired up for yummy gourmet Grilled Cheese and Apple Cherry Sandwiches and Fire Roasted Tomato Soup. Miriam stuck with her stove to produce amazing sweet treats of mini chocolate pies, pumpkin pies and apple cheese danishes.
We sampled phenomenal oyster stew with a freshly grilled oyster garnish and shrimp kabobs from the brother and sister team Ali & Paul James of Jumbo Seafood. Miriam's dad Bradley Sanders and brother-in-law Greg Mendez made amazing pizza & focacchia in the homemade pizza oven perched on a hill by the chicken coop. Other entries included salmon from Miriam's brother George, stuffed portabellos from our great friend Diane, pork from another great friend Wendy—and lots more.
There were celebrity judges, as advertised:
Carol Sanders • The Mother of Cooks
Kelly Scuderi • Painter & Grand Winner of the last Grill-Off
Hali Taylor • Librarian, Intellectual Celebrity and Fabulous Giant Paella Chef
Roselyn Mendez • Famous MUDDER and MOTHER
Stephen Skinner (Candidate for WV House of Delegates) • He's got to be famous—his banners are all over the county!
The children circled the sample stations, lined up for the rope swing and ran wild with the dogs and chickens. The Gypsy Ramblers tuned up and tested. My Stepmom made friends with a five year old airplane enthusiast who swirled and crashed his model plane around us while we ate, rattling off plane facts at sonic speed. It was a perfect autumn day to be in the fields of the Folly filling our bellies. My visiting parents felt like they had "a real Shepherdstown experience" and my stepmom said wistfully, "it really feels like 1969 northern California here."
In classic Folly form, every entry won an award exemplifying Bradley's manifesto "We're just here to eat and have fun." Mission accomplished.
Thanks to Pretty in the Panhandle for taking photos of our food! We were so busy we completely forgot!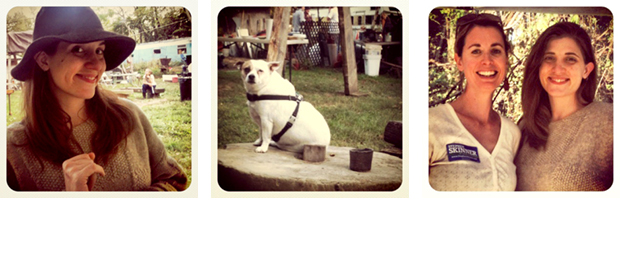 https://edendesignco.com/wp-content/uploads/2012/10/grilloff_blog.jpg
260
620
Molly Bloom
https://edendesignco.com/wp-content/uploads/2018/03/EdenLogo_340x156.jpg
Molly Bloom
2012-10-26 08:54:40
2013-10-04 12:40:45
The Folly Grill-Off!