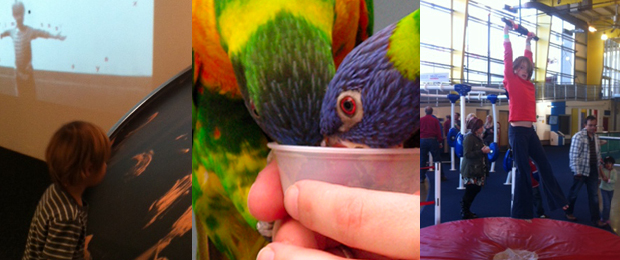 Three years ago my sister moved to Pittsburgh to attend University for six years while she works on her PhD. At first, I had the reaction that I now realize so many people have when they hear Pittsburgh, "Hmm…..really? Wow. Six years in Pittsburgh, huh!?" Regardless, I was thrilled, because she is an easy three hour drive away. Now that I have been there a few times, I am the head of the Pittsburgh Fan Club. When people start the Hmm…and nose wrinkle I just start my fan club rant about all the things it has to offer –especially as a city to visit with children. So here it is:
Museums!
We all love the Children's Museum. We spent four hours enjoying the exhibits, making paper, art, robots and boats. It is so fun and cool inside. Fun was also had last winter at the National Aviary where we warmed up in the tropical rainforest and at Phipps Conservatory and Botanical Gardens where we enjoyed the winter light gardens and model trains. On our most recent trip, we spent a very quick hour at the vast Carnegie Science Center and will have to go back to explore more. The Warhol Museum has Good Fridays where you can wander the galleries for half price until 10 p.m. with beverages from the bar. We did this without kids, although there was a fun exhibit on comic books and Warhol's Silver Clouds exhibit which they would have loved, but probably abused.
Food!
Food is always a good way to win my heart. Pittsburgh has plenty of delicious food served in lovely restaurants. When I went to visit my sister on my own we enjoyed mussels and ale at Point Brugge, and amazing cocktails and sushi at cozy and pretty Soba. Next time, I am heading to Salt of the Earth, my sister's favorite Pittsburgh restaurant (she says it is closely tied with Point Brugge).
We took the kids for yummy fun at D's SixPax and Dogz where they have a beer cave and veggie, beef or turkey hotdogs topped with all kindz of deliciousness. My kidz downed dogz topped with macaroni and cheese while I inhaled a veggie dog topped with relish, onions, pickles, tomatoes, sport peppers, celery salt and yellow mustard called the Chicago.
Join the line for yummy breakfast at Pamela's Diner and an even more scrumptious and healthier brunch at Cocoa Cafe.
We invented our own ice cream flavors at Oh Yeah! Using a pumpkin ice cream base, I mixed in dark chocolate and ginger snaps. Good choice. The kids dabbled in more conventional flavors and added oreo cookies and gummy bears (which they would pretty much add to anything they could). The ingredients one can choose from is overwhelming. You can even mix in curry, seaweed and wasabi.
Parks!
We always seem to visit when it is cold. I look forward to visiting some of the numerous parks around the city when we go again in the spring and then I will interview my children to get their take on the best place to run wild in Pittsburgh.
https://edendesignco.com/wp-content/uploads/2012/11/Blog_Pittsburgh_textpage.jpg
260
620
Molly Bloom
https://edendesignco.com/wp-content/uploads/2018/03/EdenLogo_340x156.jpg
Molly Bloom
2012-11-20 11:43:32
2013-10-04 12:39:12
Traveling: Pittsburgh