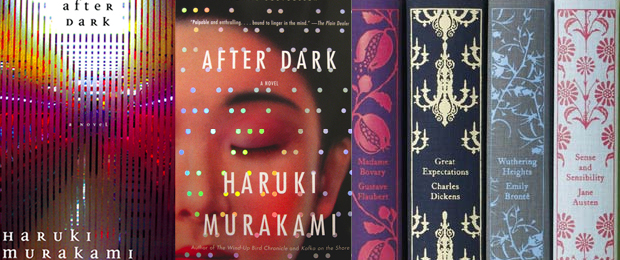 On Wednesday, I took my children to Miss Emily's Art class at Four Season's Books—our local indie book shop. Since it was my son's first time, I stuck around in case he needed me. (It turns out he didn't because he was too busy building a Frank Lloyd Wright inspired building out of marshmallows and toothpicks). This meant 90 luxurious free minutes of time for me! I can't even remember the last time I was able to leisurely browse through a bookstore. Books are so pretty!
This summer, I was twice inspired by book jackets for designs that we created at Eden. I was reading The Sense of an Ending by Julian Barnes and found myself gazing lovingly at the cover and realized that there were elements of it that would be perfect for an event invitation we were creating.
Covers are small windows into the life of a book and should entice readers enough to pick up the book and proceed to the next step: the synopsis and reviews. After all, there are so many good books on the shelves of Four Seasons that it isn't about trying to find something good to read, it is about what to read next. A compelling cover might help dictate that decision.
I decided to play a game by looking at what covers sparked my interest and why (without looking at the authors, because that might make me biased). It was not a scientific study, but I was clearly drawn to covers with more graphic elements, bold colors and clean fonts. For instance, I love Murakami's covers (and his books). The Coralie Bickford-Smith designed classics from Penguin are also among my favorites because they are so vivid and unique.
I could go on. I was giddy (as were my marshmallow infused children). So many lovely covers. Please post your favorites!
https://edendesignco.com/wp-content/uploads/2012/09/blog_BookCover.jpg
260
620
Molly Bloom
https://edendesignco.com/wp-content/uploads/2018/03/EdenLogo_340x156.jpg
Molly Bloom
2012-09-04 14:34:38
2013-10-04 12:44:38
Inspiration