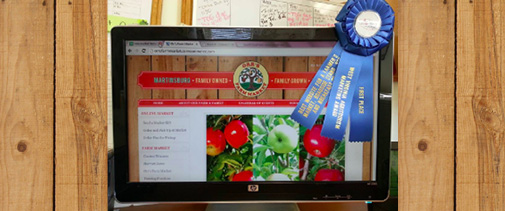 It goes without saying that having a web presence to showcase and sell your products and services is necessary to remain competitive in today's global market. However, building a great e-commerce site takes thorough planning to make sure the products you sell are unique (either by nature, or pricing, or by the way they are presented) and to ensure your site works smoothly, giving the user a pleasant shopping experience. How many times have you visited a site only to quickly leave because it was hard to navigate or the checkout process was difficult?
Recently, a long-time e-commerce client surprised us by sharing that they had been awarded a first-place prize for their farm market website. It was one of our largest e-commerce sites and we are particularly proud because the site required a lot of pre-planning. Not only does the site offer many different types of products, but there are a number of choices that the consumer has to make before they check out including flavor options, add-ons and whether they want to pick up at the store or have packages mailed. Our client also needed to impart information about visiting, events, history, calendars, and contests. It could have been a confusing and clumsy site, but we spent time mapping and testing the routes of sales to come up with a site that is pretty, informative and easy to use.
Like many of our sites, our client wanted to be able to easily make monthly edits or additions on their own so we needed an e-commerce platform that was user-friendly and dependable. We used CoreCommerce for this particular site because it gives us the flexibility to customize the design, easily load product and pictures, connect directly to shipping services and have access to great customer service. For some e-commerce sites, WordPress with a cart plugin can also be a great and affordable solution (see our previous post about why we love WordPress). Both platforms allow us to create well-designed and functional sites and, through careful planning, we help our clients choose the best solution for their online store.
Our award-winning site is Orr's Farm Market. Some other e-commerce sites we have designed include the Skin Care Shop, Shepherdstown Sweet Shop and Cellular Deflector.
https://edendesignco.com/wp-content/uploads/2014/03/blog_ecommerce.jpg
211
505
Molly Bloom
https://edendesignco.com/wp-content/uploads/2018/03/EdenLogo_340x156.jpg
Molly Bloom
2014-03-25 10:07:06
2014-03-25 10:56:17
e-commerce