striking the match or already on fire?
Whether you're starting from scratch or growing your dream, we can fan the fire of whatever your passion happens to be and help you share it with the world!
We'll admit it—technology can be a pain in the ass.
After all, we work with it every day and it turns out we're actually good at it. We've become zen masters, if you will, making multitudes of resources do what we want. We take the scary, the annoying, and the frustrating away so you can focus on what you do best.
We love to create. Period. It's in our blood.
Whatever you might need, we bet we can do it. Along the way, we'll help you identify your ideal clients, know your competitors, understand your mission and visualize your aesthetic to create a compelling marketing strategy that will spread your brand like wildfire.
We make it easy.
Many of our clients are starting new businesses or projects with limited budgets and little time. Our years of experience have evolved into mad efficiency, which means we can create high-end marketing materials without breaking the budget. We love collaboration and feel your input is integral to the success of each project.
Branding + Identity
Web Design/
WordPress
Social Media
Marketing
e-commerce
---
We've worked with . . .
theater directors · nutritionists
artists · executives · architects
hotel, restaurant, and boutique owners · real estate and secret
agents · farmers · attorneys
musicians · crafters · healers
coaches · politicians · yoginis
doctors · wine and peace-makers
*Okay, we haven't worked with a secret agent, but we'd love to!
---
Starting a new venture?
Need a website? A logo? General HELP!?
Sometimes you need a little help getting started — maybe you need a name and a tagline, a logo, a business card, or a quick website to get your new project up and running.
We do that.

We'll start by asking you to complete our online Design Brief form which we'll then review with you. This valuable exercise helps to minimize risk and disappointment while determining if we are a good fit for each other—we usually are! We will then provide a detailed proposal and scope of work and, as we learn more about your project, we can refine the estimate to stay within your budget.
---
"I was so fortunate to be recommended to Jen Rolston and Eden Design. Jen designed my websites, gave input on color, background, layouts. Besides her creative talent, she also helps with changing servers, domain hosts and programs to help you edit your pages. She is quick to respond to your concerns."
---
"The team at Eden has been my go-to source for logos, web design, business cards and any other graphic design work I've needed for nearly a decade. Jen and her crew have helped me on projects for software and energy consulting companies I've run, my wife's tutoring company, the non-profit community dog park I worked on, and others I can't even remember. They produce top-quality work while being easy to work with, and remain affordable to boot. I recommend Eden to everyone who needs graphic design work, and I've never been disappointed."
---
"Working with Eden Design has been such a great experience. Jen and the Eden Design Team are phenomenal; top notch creative design concepts, impressive with follow-up, timely turnovers, and always professional. My project required a demanding amount of work—branding, marketing and web site design and programming—yet they pulled through and delivered higher than my expectations."
---
Overwhelmed?
Ready to grow your business? Want a marketing partner?
We can work like an in-house marketing team without the hassles. Need an ad asap? Brochures this week? New web copy? A facebook status update stat?
We do that.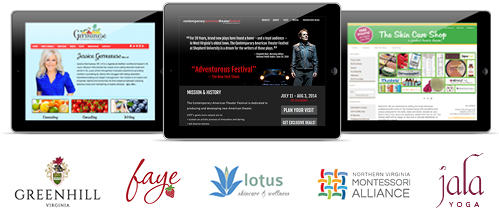 The advantage of this relationship is that we really get to know your business and can respond quickly to your needs. We can develop a three, six or twelve month marketing budget saving you time and money. By knowing your marketing plan and media schedule and having all of your files on hand, your projects can be completed quickly and easily letting you focus on what you do best.
---
"Jen and staff are fabulous! In my business I see Eden Design as my partner and owe so much of my success to Jen. I trust ~ always ~ their knowledge, creativity, professionalism, and most importantly they truly care about me. Thank you Eden Design!"
---
"I've worked with many marketing firms over the years and none have balanced excellent design with intelligent concepts better than Eden Design. Not only does Jen grasp what I'm trying to articulate (and make it better), she brings a thoughtful understanding about advertising, promotion, audience, copy, and message to everything we do. Plus, she makes it fun. I see Eden not as vendor tasked with robotically doing what I say, but as a true creative collaborator dedicated to making us look good."
---
"The team at Eden Design has always exceeded our expectations. Their response time, their analysis and understanding of our needs and the scope of the services they provide have made them our "go-to" source for all things graphic, whether it be print, web, digital design or simply brainstorming marketing ideas. We cannot recommend them enough!"
---
Ready to go?
Have questions? Scared? We've got your back.
Don't procrastinate! Give us a call, send an email . . . let us ignite your spark!
email • 304.728.2508